Helping kids reach for their dreams through a beautiful game of soccer
One of Brooklyn's top-rated soccer schools, Coney Island Cyclones Youth Soccer Club provides soccer training and summer camps for the children in the Sheepshead Bay community. We take pride in our highly qualified coaching staff. We prioritize player development above all else. We offer inclusive and comprehensive programs for players of every level; a respectful, fair, and inclusive environment that fosters long-term player development. At CI Cyclones Soccer Club we care about every one of our players and help them develop skills they can use on and off the field for the rest of their lives!
Soccer Travel Teams, Development Programs, and a Summer Camp.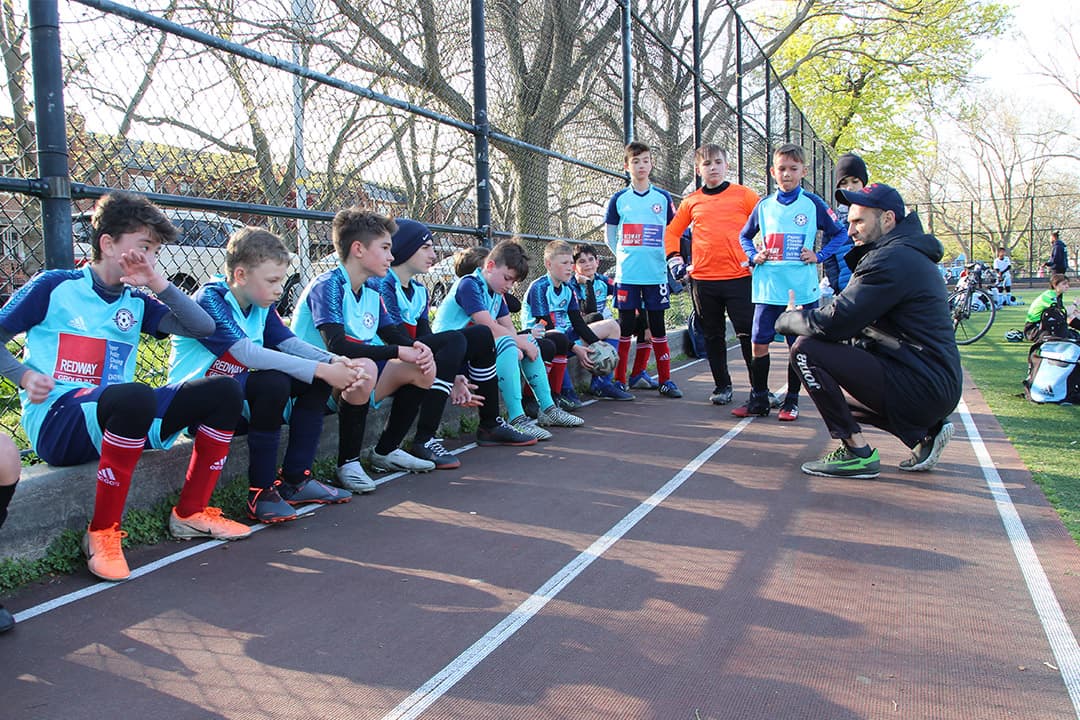 CI Cyclones has 10 travel teams of various ages from U8 through U17. Our travel teams compete in EDP, NYCSL, and CJSL leagues. Our home fields are located in South Brooklyn, with away games in and around the larger New York City area. Travel teams focus on in-depth player-centric development and have a structured training environment. Coaches use various tools to enhance players' tactical understanding of the game, such as match video analysis through team Zoom calls (VEO technology), homework, and private training sessions (1-on-1 or in a small group). Soccer is a high priority for our travel team families, who have a strong commitment to practices, games, and tournaments.
CI Cyclones Development Soccer Programs are divided into 3 stages: Baby Steps (U4-U7), Development (U8-U11), and Development (U12-U15). Our Baby Steps group practices are focused on basic mobility, coordination, concentration, reactions, and lots of fun with the ball. Development U8-U11 is where kids come in to work on their technical foundations: dribbling, shooting, passing, and receiving the ball, as well as juggling and 1v1 attacking and defending skills. Development U12-U15 group is comprised of players who are getting introduced to the game at 11-14 years old.
CI Cyclones Soccer has been hosting Soccer Summer camps in the Sheepshead Bay area of Brooklyn for over a decade. Our camp offers soccer players of any level an opportunity to get involved in a comprehensive Soccer+ program. Cyclones Summer Camp is run out of Bill Brown Playground (4475 Bedford Ave). We have players from Cyclones travel teams and other clubs joining our Summer Camp, including players from some of the best clubs and MLS Next academies in New York. We have half-day (9AM - 1PM) and full-day (9AM - 4PM) options, travel teams, and development groups for different ages.
"Knowledgeable and experienced coaches! They're incredible at both improving young players' technical skills and keeping the kids engaged, fostering a happy environment for children to be in."
"Just a terrific place for kids to learn soccer and have fun while doing it. My 8-year-old son has been going to classes/training for almost two years and just loves the place. The coaches are so professional. My son's confidence has grown tremendously. Highly recommend it!!!"
"After switching to CI Cyclones, my son's skills have improved tremendously. He looks forward to each practice and is feeling more confident. His coach puts his heart and soul into each practice! The club promotes teamwork, which is an important part of the learning process for kids at this age."
Visit the Coney Island Cyclones Soccer Club online store for team uniforms, coaches' uniforms, and club merch shirts.